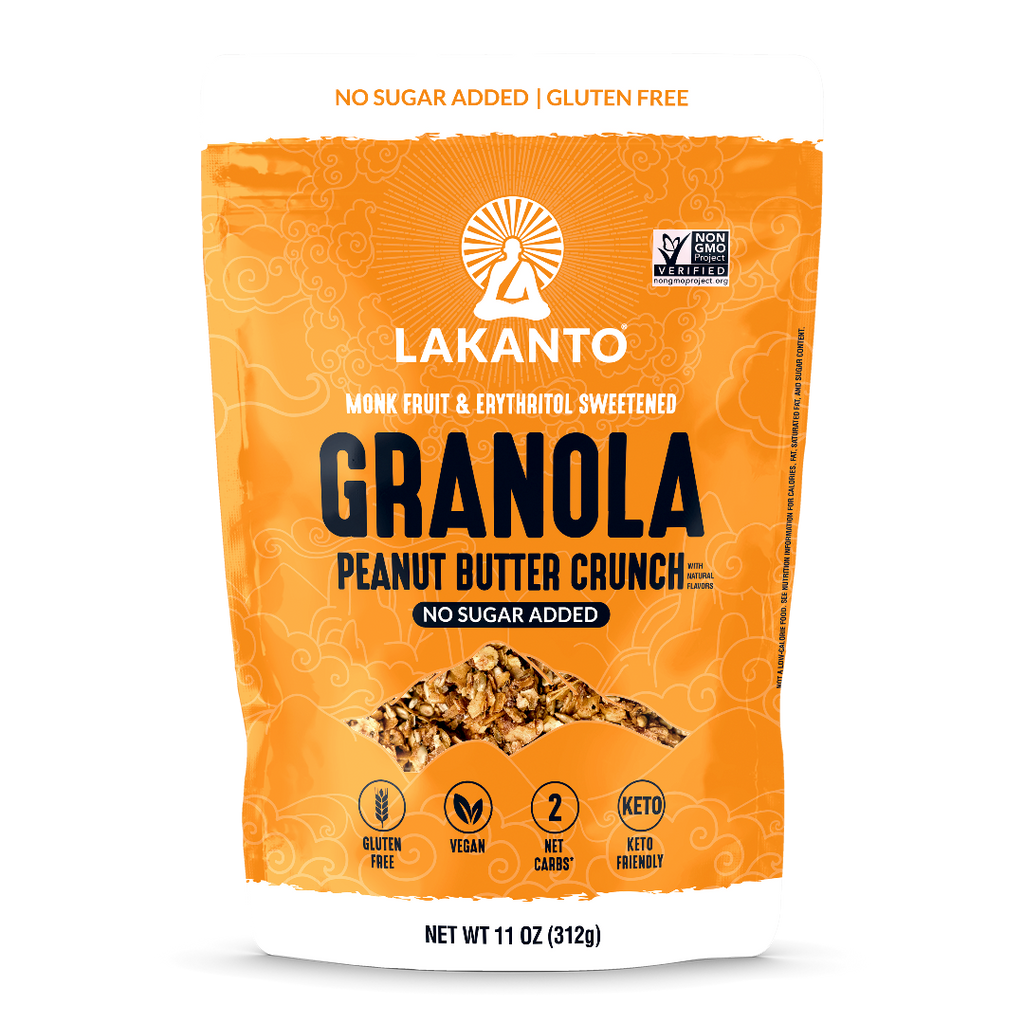 Peanut Butter Granola 11 OZ (Case of 10)
It's Crunch Time:

 

We've made our Granola perfect for on-the-go mornings and rushed mid-day snacking. Use to top parfaits and other foods that need a little added crunch. Contains 2g-3g net carbs, is grain-free, gluten-free, sugar-free, keto-friendly, and always sweetened with a touch of monk fruit.
Lifestyle Friendly and Say Goodbye to Ordinary Granola:

 

With the perfect crunch in every bite, our Granola breakfast cereal will keep you happy and healthy without compromising on taste. Our Cinnamon Almond Crunch Sugar-Free Granola works with ketogenic, low-sugar, and all-natural diets.
Kid and Mom Approved:

 

Your perfect snack has arrived. Lakanto makes the finest crunchy granola keto breakfast cereals around. No grains, no gluten, and no added sugar. Just perfectly toasted ingredients with a touch of sweetness from our Classic Monkfruit Sweetener. You may need to buy 2 bags: 1 for yourself and 1 for the family.
300X Sweeter Than Sugar:

 

Lakanto Granola is sweetened with monk fruit, a natural sweetener that tastes amazing without the negative effects of sugar.
Lakanto's Mission Statement:

 

At Lakanto, our mission is to Bring Chi to Life by inspiring people to reach their highest potential in health and wellness by creating products that are innovative, delicious, natural, and nutritious. Try some of our tasty products today!
Peanut Butter Crunch Ingredients
Roasted Peanuts, Sunflower Seeds, Monkfruit Sweetener (Erythritol, Monk Fruit Extract), Coconut Oil, Fava Bean Protein Isolate, Peanut Butter (Roasted Peanuts), Tapioca Fiber, Sea Salt, Rosemary Extract [To Preserve Freshness]. *Contains: Peanuts.