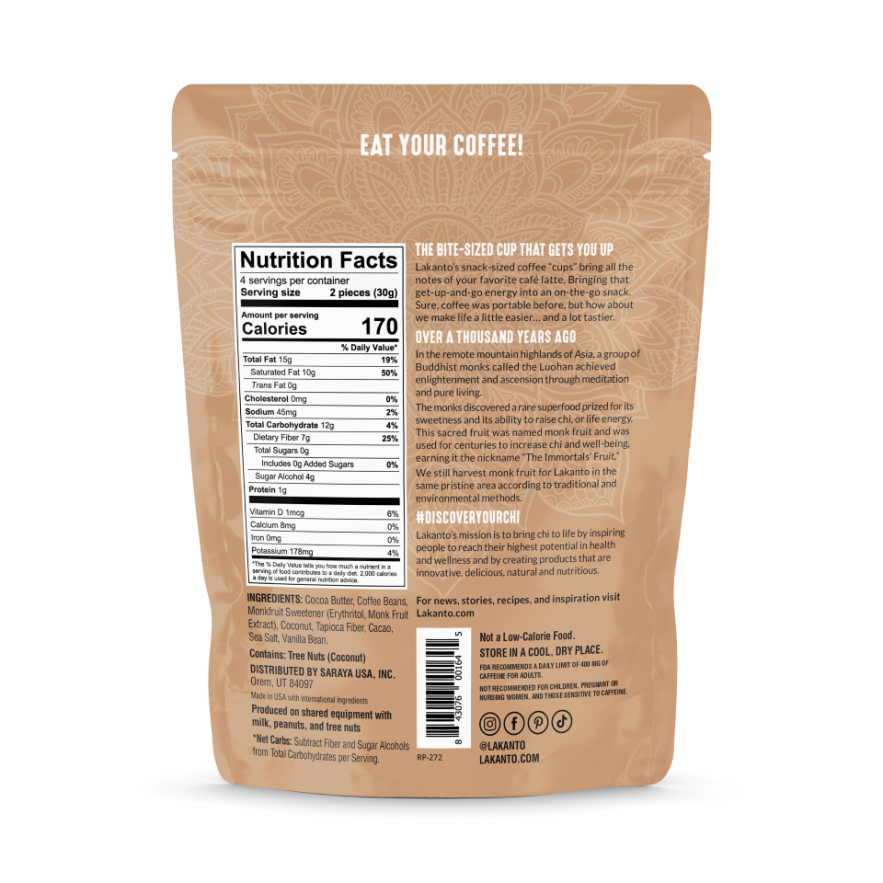 Latte Coffee Cups - Sugar Free (Case of 10)
Description: 
Enjoy the perfect balance of sweetness and coffee with Sugar-Free Coffee Cups. Three delightful flavors—espresso, latte, and caramel macchiato—are sure to satisfy your cravings for a coffee-filled morning routine, all with no added sugar.
Each flavor accurately replicates its beverage namesake: Espresso exhibits a robust, dark bitterness, Latte offers a pleasant sip, and Caramel Macchiato is like a sweet reward that provides a jolt of energy.
Rely on these treats to provide the energy boost you need throughout the day, sweetened with Lakanto sweetener to fit any lifestyle. Take on the day with deliciousness and convenience with one convenient cup!
30 MG Caffeine: Each piece contains 30 mg of caffeine.
Sugar-free: Don't let the deliciously sweet taste fool you, these coffee cups are sugar-free! No more deciding how many packets of sweetener to add, or worrying about how the sugar in your drink will affect your health. We've developed the perfect ratio of sweetness for you, in a deliciously chocolate flavored bite that packs a punch.
Vegan: So tasty everybody wants to try them, and completely vegan so anybody can. By avoiding milk and other animal products, we ensure that people of all different lifestyles can enjoy the great taste, and big energy boost, these cups provide.
1 Net Carb: All the energy and flavor you want, condensed into a single delectable cup, all with only 1 net carb. It's the coffee treat you can eat, without worrying about ruining you appetite for dinner!
INGREDIENTS: 
Cocoa Butter, Coffee Beans, Monkfruit Sweetener (Erythritol, Monk Fruit Extract), Coconut, Tapioca Fiber, Cacao, Sea Salt, Vanilla Bean.