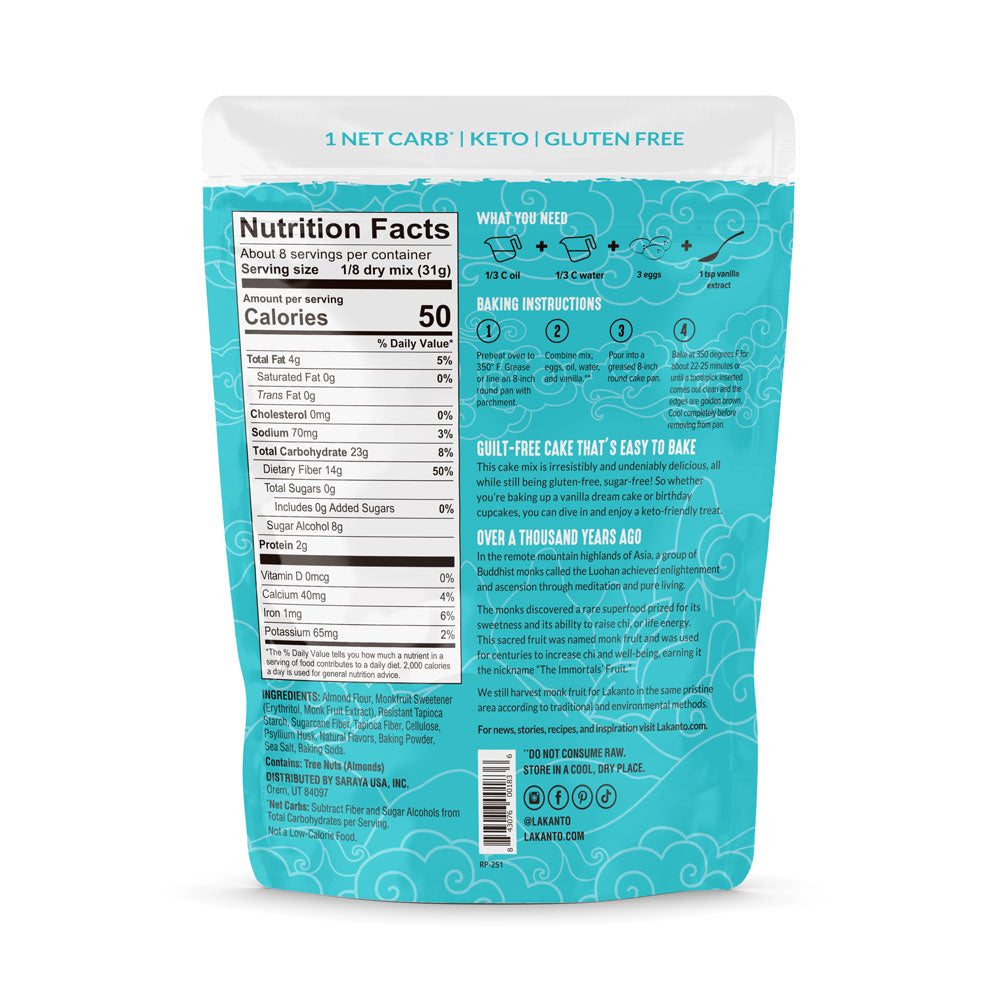 Vanilla Cake Mix (Case of 8) 8.8oz
Delicious Sugar-Free Cake Baking Mix:

 

Lakanto's Sugar-Free Keto Vanilla Cake Mix is delicious. This mix only has 1 net carbohydrate, sweetened with monk fruit, and made with wholesome ingredients that you will not feel guilty about eating one piece or the whole cake.
Satisfy Your Sweet Teeth, Great For Any Occasion:

 

Our delicious Cake Mix is made with Almond Flour and Monk Fruit Sweetener, and more. Eat this cake whenever and wherever you want; in the morning, after dinner, midnight snack. Anytime you want to satisfy your sweet tooth, this is the go-to cake mix.
Quick and Easy Prep, Anyone Can Do It:

 

With our Sugar-Free, 1g Net Carb, Gluten-Free Cake Mix, you are about less than 30 minutes away from enjoying a delicious cake that won't get in the way of your health and fitness goals. Requires only four ingredients and four easy steps. Indulge in no time.
Complementary Products from Lakanto:

 

What other products go well with Cake Mixes? Lakanto has covered all of those bases for you. Try some of our other products to add to your cake mix to make them even more delicious. These products are Sugar-Free Frostings, Sugar-Free Chocolate Chips. All sweetened with Monk Fruit.
Lakanto's Mission Statement:

 

At Lakanto, our mission is to Bring Chi to Life by inspiring people to reach their highest potential in health and wellness by creating products that are innovative, delicious, natural, and nutritious. Try some of our tasty products today!
Bake up and dive into a deliciously decadent gluten-free vanilla cake mix that anyone can enjoy. There's so much more to celebrate with this keto-friendly and sugar-free treat. Reason enough to throw a party!
Ingredients:
Almond Flour, Monkfruit Sweetener (Erythritol, Monk Fruit Extract), Resistant Tapioca Starch, Sugarcane Fiber, Tapioca Fiber, Cellulose, Psyllium Husk, Natural Flavors, Baking Powder, Sea Salt, Baking Soda. Contains: Tree Nuts (Almonds).